---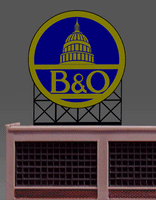 B&O railroad was one of the oldest railroads in the
United States and the first common carrier railroad.
It is now part of the CSX Transportation (CSX)
network, and includes the oldest operational
railroad bridge in the USA. This long requested
billboard is a faithful reproduction of the original.
Available in several size including a window sign
and a N/Z billboard. The large version #88-2701
comes with supports.
Don't forget that the large version can be ordered
with our "DTN" freestanding base to use anywhere!


Our B&O billboard also works great in our
DTN base.
Price: $49.95
To order this version just put in the
customer comment section at check out
that you want the DTN version and we will
do the rest!