---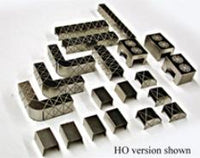 HO SCALE Kit # HO-570 Roof Top Duct System
Our roof top modular duct system kit consists of several different
components that allow the builder to construct many different
kinds of roof top ducting configurations. Produced from
photo-etched stainless steel. Kit consists of enough parts for
several buildings or one very complex design. Picture above is
just one of many different configurations possible.