---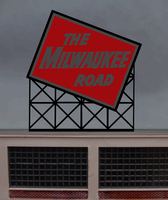 #1070 Series - Milwaukee Road Billboards –The
Milwaukee Road first appeared as the Milwaukee and
Waukesha Railroads when incorporated in 1847, but
soon changed to Milwaukee and Mississippi. In 1874
the railroad name was changed to Chicago, Milwaukee,
and St. Paul. Sadly the railroad filed for bankruptcy for a
third time on December 19th, 1977.
This sign comes with a second set of contacts on the
backside to allow you to mount the sign flush against
the side of a building if desired. Available in two sizes.
Available in two sizes. The large version comes with
supports.
 This is a limited edition sign