---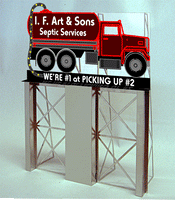 #1281- I.F. Art & Sons Roadside Billboard. Price $42.95
A little humor for your layout! Each kit includes an etched
stainless steel support that's easy to put together and will add
a whole new dimension to your layout. This easy to build kit
comes with easy to follow instructions and ready-to-run
electronics.