---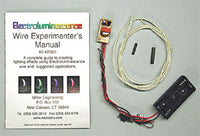 Expand your imagination with EL wire. It's thin, flexible and can be bent into almost
any shape. Perfect for outlining models, R/C aircraft for night flying, ect. Each
comes with 3' of  one color EL wire, ready-to-run power supply that runs on
2 AAA batteries. Requires soldering to hook up wire to drive board.
El wire is also available by the foot. Please note that our inverters (the circuit) brightness will be reduced. Inverters are not included when you buy just the wire.