---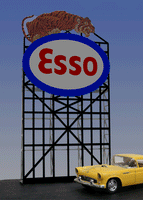 #6070 series - Esso Billboard.
This is our 6th gas station sign. A classic sign
from the past. We just had to add that "Tiger
in Your Tank" guy to the sign. For those of
you who are purists (or don't like large cats)
the tiger can be trimmed off. The sign is just
a standard, conventional "ESSO". Comes
with roadside support frame.