---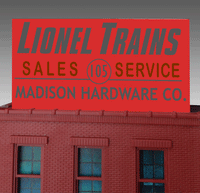 Madison Hardware is considered as the most famous of all Lionel train stores. This
had a relationship with Lionel. Sadly they closed in August of 1989. This sign comes
with an additional set of contacts on the back that will allow the sign be flush mounted
on the front of a building like the original sign.
Limited edition sign!
Optional Mounting Method