---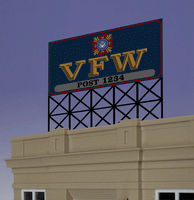 VFW Billboard

In 1899, a Post began in Denver, Colorado. The VFW
name was created on September 17, 1914 at a
conference at the Schenley Hotel in Pittsburgh,
Pennsylvania. The new organization was a merger of
two prior veterans organizations, both beginning in
1899: the American Veterans of Foreign Service and
the National Society of the Army of the Philippines.  On
May 28, 1936, by an act of the United States Congress,
the VFW became a government-chartered non-profit
organization.

We have included a set of peel and stick overlays to
create a custom Post number for your VFW sign.
Available in two sizes.
This is a limited edition sign.