---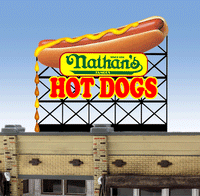 Nathan's began as a nickel hot dog stand in Coney
Island, NY in 1916 and bears the name of
co-founder Nathan Handwerker, who started the
business with his wife, Ida. She created the hot dog
recipe they used, and Ida's grandmother created
the secret spice recipe. The original Nathan's hot
dog stand still exists at its original 1916 site. It has
been open for business 365 days a year ever since.
Available in two sizes as well as a window sign,
billboard and N/Z billboard. If you can't get enough
of your hot dog - you can display it anywhere using
our Desk Top Neon base.

Limited edition sign.