---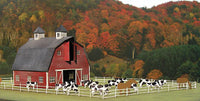 Adam's Dairy Farm is a classic structures that will fit perfectly on any layout. This
extremely detailed kit includes 23 dairy cows, 6 horses, and over 400 scale feet of
fencing to get your dairy farm up and running. Milk production should top out at about
75 milliliters/day (just kidding).
Size: 2.0" W x 2.2&" D x 2.2" H