---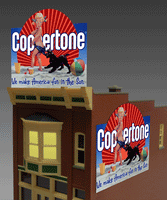 1060 Series - Coppertone Billboard
Another classic sign that is an American icon
interesting article on how the Coppertone girl
came to be click  "
Here
" There is an additional
set of contacts on the back that will allow the
sign be flush mounted on the side of a
building. This should be a great addition for
any layout, we promise you won't get burned
on this one. Large version comes with
supports.