---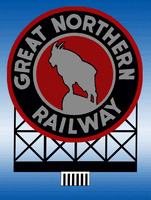 The Great Northern Railway  was an American Class I
railroad. Running from Saint Paul, Minnesota, to Seattle,
Washington, it was the creation of 19th-century railroad
entrepreneur James J. Hill and was developed from the
Saint Paul & Pacific Railroad. The Great Northern's (GN)
route was the northernmost transcontinental railroad
route in the U.S. This sign make a great addition to any
layout. Large version comes with supports.

This is a limited production sign