---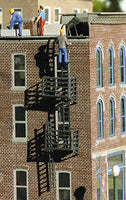 Z SCALE Kit # Z-F-101 Single Window Fire Escape
Add that extra detail to your buildings with a
MICRO STRUCTURES Fire Escape Kit.
Designed to fit all MICRO STRUCTURES single
or double windows. A drill template is provided
with each kit to assure proper alignment and fit
on your buildings. All kits are large enough for a
three-story building.