---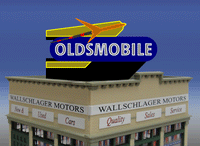 A blast from the past... Who doesn't remember
this sign? Rocket Emblem (1960-1979)
Running with the rocket theme and based on
the popularity of its Rocket V8 engine,
Oldsmobile fully embraced the rocket as its
insignia. It even altered the grilles and taillights
on its models to imitate the upright rocket.
Large signs come with supports.

Limited Edition sign