---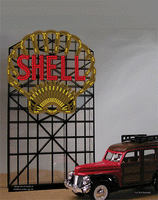 Our iconic Shell sign is back! We have received so
many requests for this roadside sign that we have
brought it back for a limited run. If you missed this
grand sign the first time around, now is your chance
to have one on your layout! Available in two sizes   
and both sizes come with supports.
Limited edition sign!
The original Shell sign was manufactured
in 1933 by the Donnelly Electric
Manufacturing Company of Boston, one
of the foremost manufacturers of
advertising signs in New England. It was
moved to its current location in 1944. It is
68' high and features animated neon. It is
on the National Register of Historic
Places and still resides at a Shell gas
station at the intersection of Magazine
Street and Memorial Dr. in Cambridge,
MA.