---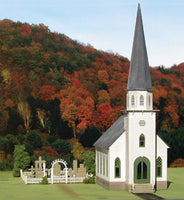 Mary's Church is a must have to complete have a church? With its Victorian charm, tall
steeple, arched windows, it will capture the imagination of rural churches across the
country. Included is a complete cemetery with headstones and fencing for added value
and realism. Kit comes with easy to follow instructions and painting tips.
Size 1.2" W x 2.6" D x 4.2" H