---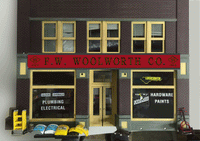 F.W. Woolworth was a retail company that was one of the original
pioneers of the five-and-dime store. Sadly the 5&10 stores are long
gone. This sign is unique in that it has the ability to be mounted two
different ways. It can be mounted as a regular roof top billboard or,
because we have added a second set of contacts to the backside
center, it can be mounted flush against the front or side of a
building.
When mounted flush, the regular supports and lower contact are
trimmed off. 
Limited Edition Sign! 
If you would like to reserve one
drop us an e mail at: milleren@microstru.com